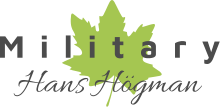 Copyright © Hans Högman 2021-01-19
Armament
Designation System
The Swedish military designation system is as
follows; Type of arms (often abbreviated) followed
by a lower case "m" and a slash and the year when it
first was adopted (two or four digits), for example,
Kpist m/37
. Kpist is short for "kulsprutepistol"
(submachine gun) model m/37, i.e. adopted in 1937.
Rifle m/1896
Swedish name: Gevär m/96.
At the outbreak of WWII, the majority of the Swedish
infantry soldiers were armed with the

rifle m/96

.
Rifle m/96 is a repeater, system

Mauser,

caliber 6,5
mm (6,5 × 55 mm) adopted by the Swedish armed
forces in 1896. Initially, the rifles were acquired from
Waffenfabrik Mauser Oberndorf, Germany, but
thereafter manufactured in Sweden under license
by Carl Gustafs Stads Gevärsfaktori in Eskilstuna and
by Husqvarna Vapenfabrik.
The image to the
right shows the
Mauser rifle m/1896.
Image: Armémuseum.
The Swedish Mauser is a bolt-action rifle based on
an improved variant of Mauser's earlier Model 1893,
but using the 6.5 × 55mm cartridge, incorporating
unique design elements as requested by Sweden.
The family of Swedish Mauser rifles consists of the
m/94 carbine, m/96 long rifle, m/38 short rifle, and
m/41 sniper rifle. All Swedish Mauser rifles were
chambered for the 6.5×55mm cartridge with a 5-
round stripper clip, internal magazine.
Between 1942 and 1944, Husqvarna Vapenfabrik
manufactured about 88,000 of the 14 cm shorter
rifle m/38
. Further, between 1938 and 1940, Carl
Gustafs Stads Gevärsfaktori converted 55,000 rifles
m/96 into m/38 short rifle. About 5,300 rifles m/96
selected for accuracy were rebuilt into

sniper rifle
m/41
fitted with telescopic sights between 1941 and
1944.
Rifle m/1896 was equipped with a bayonet mount
for knife bayonet m/1896.
The rear sight of the m/96 was graduated for
6.5×55mm service cartridges from 300 to 2,000 m
(328 to 2,187 yd) in 100 m (109 yd) increments. Rifle
m/38 had a different rear sight, in three models,
graduated from 250 to 600 m, 150 to 600 m, and
100 to 600 m.
Submachine guns
Swedish name: kulsprutepistol or simply kpist.
A submachine gun (SMG), is a magazine-fed,
automatic carbine designed to fire handgun
cartridges.
Submachine gun

Kpist m/37

was the first
submachine gun adopted by the Swedish armed
forces and was a Swedish version of the Finnish
submachine gun KP-31.
After the First World War, submachine guns were
developed in many countries. In the 1930s, Sweden
began the rearming of its armed forces and
submachine guns was a need. The submachine gun
chosen was the Finnish KP-31 or M31. The Swedish
Army used 9mm ammunition and the KP-31 was
acquired in this caliber (9 x 20mm). The Swedish
version of the submachine gun had a 56-round
magazine. The submachine gun (SMG) was adopted
in 1937 and designated Kpist m/37. About 35,000
m/37 were made under license by Husqvarna
Vapenfabriks AB just before and during World War
II.
In

1939

, Sweden acquired about 1,800 SMGs of the
type MP35 and 1,500 army pistols Walther HP (P38)
from Germany. The ammunition used was also 9mm
(9 x 19mm) and the submachine gun was
designated

Kpist m/39

.
In 1939, the m/37 submachine gun then was
converted to the new type of ammunition (9 x
19mm) which was more powerful. The converted
version of the m/37 SMG was designated

Kpist
m/37-39
.
The

Kpist m/39

was a German submachine gun,
Maschinenpistole 35/I. The Kpist m/39 was
manufactured in two variants, with a 200mm
standard or 320mm barrel.
In 1945, the Swedish Army replaced all of the above-
mentioned SMGs with the new Swedish submachine
gun

Kpist m/45

.
The image to the
right shows a
submachine gun
m/39 with a long
barrel. Photo: Armémuseum.
Submachine gun m/45 Carl Gustaf (Kpist m/45
) is
a Swedish manufactured submachine gun 9 x 19mm
adopted in 1945. It is a
fully-automatic-only weapon without any option for
semi-automatic fire. Single shots are also easy to
achieve (with very little training) by letting go of the
trigger before another round is cycled.
It was manufactured at the Carl Gustafs Stads
Gevärsfaktori in Eskilstuna, Sweden, and the m/45
was the standard submachine gun of the Swedish
Army from 1945 to 1965.
It was produced in three models; m/45, m/45B, and
m/45C. The

m/45B

model features fixed magazine
support, smaller holes in the barrel shroud, a
strengthened bolt buffer (in the receiver-rear), and a
hook securing the buffer cap in place. Early m/45B
models had the same metal finish as the m/45 but
most had a dull green lacquer finish. The

m/45C

is
an m/45B with a bayonet mount on the barrel
sleeve which was used for parade and guard duties.
The Swedish Police used the m/45 as a
reinforcement weapon. Unlike the military model, it
was equipped with a selector switch for full auto or
semi-auto fire. The police model designation was
m/45BE
.
The Kpist m/45 was replaced in the Swedish Armed
Forces during the mid-1960s with the 7.62mm

AK 4
battle rifle, and starting in 1986 with the 5.56mm

AK
5
assault rifle.
In addition to Sweden, several other countries have
used the weapon, with versions of the weapon
being produced in Egypt and the United States.
During the Vietnam War, the US Navy SEALs used
the m/45 extensively. One of the gun's qualities that
appealed to the US Navy was that the m/45 can fire
almost immediately out of the water (over the
beach). In US service it was largely known as the
"

Swedish-K

" or "

K-Rifle

".
The image to
the right
shows the
SMG Kpist
m/45B with
the very
reliable 36-
round magazine. Image: Wikipedia.
Automatic Rifle m/42
Swedish name: Automatgevär m/42 (Ag m/42).
The Ag m/42 was a semiautomatic rifle 6,5 mm (6,5
× 55 mm). The Ag m/42 was designed by Erik Eklund
of the AB C.J. Ljungmans Verkstäder company of
Malmö around 1941 and entered production at the
Carl Gustafs Stads Gevärsfaktori in Eskilstuna in
1942. Some 30,000 rifles were manufactured in all
for the Swedish Army. The Ag m/42 uses the
6.5×55mm cartridge loaded into a removable 10-
round box magazine. In practice, however, the
magazine usually remained attached to the rifle
while it was loaded from the top with five-round
stripper clips.
The image to
the right
shows an Ag
m/42. Photo:
Gotlands försvarsmuseum and Wikipedia.
Machine Guns
Swedish name: Kulspruta or short Ksp.
A machine gun (MG) is a heavy firearm used for
suppressive automatic fire of rifle cartridges, usually
attached to a mount or supported by a bipod.
Depending on size, weight, and role, machine guns
are divided into heavy, medium, and light machine
guns. The ammunition is often belt-fed. Machine
guns are designed to be mainly used as infantry
support weapons and are used against infantry, low-
flying aircraft, small boats, and lightly/unarmored
land vehicles.
Other automatic firearms such as assault rifles and
automatic rifles are designed more for unleashing
short bursts than for continuous fire and are not
considered machine guns.
Because they become very hot, the great majority of
designs fire from an open bolt, to permit air cooling
from the breech between bursts.
Early machine guns were often water-cooled and
while this technology was very effective, the water
jackets also added considerable weight to an
already bulky design. Light machine guns are
designed to provide mobile fire support to a squad
and are typically air-cooled weapons.
Machine Gun m/36
Swedish name: Kulspruta m/36 (Ksp m/36) .
Kulspruta m/36 (Ksp m/36) is a

water-cooled
machine gun of a Browning type. It was foremost
used as an infantry support weapon, caliber 6,5mm
(6,5 × 55mm), mounted on a tripod. The m/36 is at
large identical with the American MG Browning
M1917. The m/36 was manufactured in two
varieties; single-barreled and doubled-barreled. The
double-barreled 8 mm MG was used as an anti-
aircraft machine gun mounted
on a gun carriage.
The image to the right shows a
Ksp m/36. Image: Arsenalen,
Digitaltmuseum.
Machine Gun m/42
Swedish name: Kulspruta m/42 (Ksp m/42).
Kulspruta

m/42

(Ksp m/42) is an

air-cooled

machine
gun of a Browning type. It is a heavily modified,
license-built variant of the M1919A6 chambered in
6.5×55mm or 8×63mm patron m/32 and from 1975
in 7.62×51mm NATO.
The Ksp

m/42B

is a lighter version with a distinctive
bipod, shoulder stock (used in a similar way as the
M1919A6), and a spade grip chambered in
6.5×55mm and later in 7.62×51mm which can be
recognized in its corrosion-resistant green finish.
It was foremost used as an infantry support
weapon.
The image to the
right shows a Ksp
m/42. Image:
Armémuseum, Wikipedia.
Machine Gun 58
Swedish name: Kulspruta 58 or short Ksp 58
The Swedish Army adopted a new machine gun in
1958 designated

Ksp 58

. The machine gun is a
Swedish variant of the Belgian FN MAG general-
purpose machine gun that is currently being
manufactured by the Swedish company

Carl Gustav

.
The initial Ksp 58A version used by Sweden was
chambered for 6.5×55mm, while the B and later
models were chambered for 7.62×51mm NATO.
The image to the right shows a Kulspruta 58 (Ksp 58)
machine gun.
Photo:
Armémuseum,
Wikipedia.
Mortars
Swedish name: Granatkastare or short Grk.
A mortar is usually a simple, lightweight, man-
portable, muzzle-loaded weapon, consisting of a
smooth-bore (although some models use a rifled
barrel) metal tube fixed to a base plate (to spread
out the recoil) with a lightweight bipod mount and a
sight. They launch explosive shells in high-arcing
ballistic trajectories. Mortars are typically used as
indirect fire weapons for close fire support with a
variety of ammunition.
Mortar m/41 - 12cm
Swedish name: Granatkastare m/41 - 12cm.
The Granatkastare m/41, originally manufactured in
Finland by Tampella with the designation 120
Krh/40, is a mortar with the caliber12cm. The
Finnish mortar was exported to
Sweden between 1941 and 1944
and later produced under license
in Sweden.
The image to the right shows a
Granatkastare m/41 – 12cm.
Image: Wikipedia.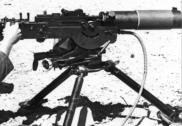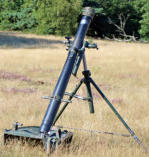 Related Links
•
Swedish military war units 1939 - 1945
•
Military Images, Sweden, 1939 - 1945
•
Signals Intelligence - Crypto Department 1939 -
1945
•
Swedish military intelligence
•
Norwegian and Danish police-troops
established in Sweden during WWII
•
Operation Save Denmark
•
Swedish Volunteer Corps
in Finland in 1940
•
Swedish Military Aircraft
•
Tanks of Sweden
•
Swedish regiments
•
The organization of the Swedish armed forces
in the 20th century - conscription
•
Uniforms of the Swedish Army - the 1900s
•
History of the Swedish Air Force
•
Military Uniforms of the Swedish Women's
Voluntary Defense Service
•
Service Uniforms of the Swedish Lotta Corps
(Swe: Lottakåren)
•
Aircraft Warning Service - Female Aircraft
Observers, Sweden
•
Swedish Voluntary Defense Services
Source References
•
Svenska försvarets hemsida:
http://www.forsvarsmakten.se/sv/
•
Krigsmäns erinran, beredskapen 1939 - 1945,
Åke Williams, 1989.
•
Svenska arméns förband, skolor och staber,
Björn Holmberg, 1993
•
Från Brunkeberg till Nordanvind, 500 år med
svenskt infanteri av Bertil Nelsson, 1993
•
Beredskapsverket, AD. "Den svenska militära
beredskapen 1937 - 1945".
•
Nationalencyklopedin
•
Wikipedia
Top of Page
Carl Gustaf recoilless rifle m/48
Swedish name: Granatgevär m/48 Carl Gustaf, (

Grg
m/48
).
A recoilless rifle, recoilless launcher or recoilless gun,
sometimes abbreviated "RR" or "RCL" (for
ReCoilLess)[1] is a type of lightweight artillery system
or man-portable launcher that is designed to eject
some form of countermass such as propellant gas
from the rear of the weapon at the moment of firing,
creating forward thrust that counteracts most of the
weapon's recoil.
The

Carl Gustaf recoilless rifle m/48

is an 84-mm
man-portable reusable anti-tank weapon produced
by Saab Bofors Dynamics (formerly Bofors Anti-
Armour AB) in Sweden introduced in 1946. In
Sweden, it is officially called the Grg m/48
(Granatgevär – "grenade rifle", model 1948). The
weapon was first introduced into Swedish service in
1948 as the 8,4 cm Grg m/48.
The Carl Gustaf is a lightweight, low-cost weapon
that uses a wide range of ammunition, which makes
it extremely flexible and suitable for a wide variety of
roles. The Gustaf was soon sold around the world
and became one of the
primary squad-level anti-
tank weapons for many
West European armies.
The image to the right
shows a Carl Gustaf
recoilless rifle m/48.
Image: Wikipedia.
Bofors 37mm Antitank Gun m/38
Swedish namne: Bofors 37mm pansarvärnskanon
(

pvkan m/38

)
The

Bofors 37 mm pansarvärnskanon

(

pvkan
m/38
) was an anti-tank gun designed by Swedish
manufacturer Bofors in the early 1930s and adopted
by the Swedish Armed Forces in 1838. It was
exported to several countries during the 1930s.
Licensed copies were produced in Denmark, Finland,
the Netherlands, and Poland.
The barrel was of monobloc type, with a semi-
automatic vertical sliding breech block and a small
muzzle brake. It was mounted on a split trail carriage
that had suspension and metal wheels with rubber
tires. To give the crew some protection from firearms
and shell fragments, the gun was equipped with a 5
mm thick shield, with a folding lower plate.
The Bofors gun saw combat for the first time in the
Spanish Civil War, where it could easily pierce the
armor of contemporary light tanks. Rate of fire: 12
rounds per minute.
The image to the right
shows a troop of
Swedish infantry soldiers
wearing uniform m/1939
at a Bofors 37mm
pansarvärnskanon
m/1938. Fordonsmuseet
Arsenalen, Strängnäs.
Photo, Hans Högman 2016.
Bofors 20mm Automatic Gun m/40
Swedish name: Bofors 20mm automatkanon m/40.
The 20 mm automatkanon m/40 is an autocannon
(automatic gun) with a caliber of 20mm made by
Swedish Bofors. The weapon was intended as both
an anti-tank and anti-aircraft weapon. It was
chambered for a unique and quite powerful
20×145R cartridge and could fire at 360 rpm. On a
wheeled AA mounting, it weighed 300 kg, on a low
tripod for anti-tank use, it weighed 65 kg (the same
gun was used in both installations, and could be
switched between mountings). In anti-tank form, it
was given the nickname "grasshopper" as it jumped
about so much on firing.
The ammunition feed consisted of an exposed 28-
round rotary magazine above the gun, which in the
AT mounting meant that the sights had to be fixed to
the side. About 2,700 Bofors 20mm autocannon
m/40 were produced for the Swedish army. It was
also fitted to about forty PB
m/31 armored cars and to
fixed AA and "combination"
mountings.
AT = Antitank and AA = Anti-
aircraft.
The image shows a Bofors 20
mm automatic gun m/40 on
a wheeled AA mounting
m/40. Image: Armémuseum.
Bofors 40mm Anti-Aircraft Autocannon
Lvakan m/36 (L/60)
Swedish name: Bofors 40mm automatkanon lvakan
m/36.
The Bofors 40 mm gun, often referred to simply as
the Bofors gun, is an anti-aircraft autocannon
designed in the 1930s by the Swedish arms
manufacturer AB Bofors. It was one of the most
popular medium-weight anti-aircraft systems during
World War II. The Bofors gun was adopted by the
Swedish Armed Forces in 1936, hence the
designation m/36. Most forces referred to it as the
"Bofors 40 mm L/60".
The Swedish Navy adopted the weapon as the m/36
in hand-worked single air-cooled, and power
operated twin water-cooled version. A twin air-
cooled mounting, was also used by the Swedish
Navy.
Variants:
•
40 mm lvakan m/36 – single barreled
•
40 mm lvakan m/40 – twin variant
•
40 mm lvakan m/36-43 – twin variant for lvkv
m/43.
Specifications (L/60)
:
•
Caliber
40 mm
•
Rate of fire
120 round/min
•
Muzzle velocity
881 m/s depending of ammo
•
Maximum firing range: 4,650 m
The image shows a twin
Bofors 40 mm automatic
anti-aircraft gun m/40,
aboard the Swedish
Cruiser HMS Tre Kronor.
Image: Wikipedia.
Bofors 40mm Anti-Aircraft Autocannon Lvakan m/48
(L/70)
In the post-war era, the original design was not
suitable for action against jet-powered aircraft, so
Bofors introduced a new model of significantly more
power, the

40 mm L/70

, designated 40 mm

lvakan
m/48
in Sweden.
This gun has generally been as successful as its
predecessor. The gun has been used in military units
such as anti-aircraft companies.
Specifications (L/70)
:
•
Caliber
40 mm
•
Rate of fire
240 round/min, later 300
round/min
•
Muzzle velocity
1005 - 1025 m/s depending of
ammo
•
Maximum firing range: 12,500 m
The image shows Bofors
40 mm automatic anti-
aircraft gun m/48 (L/70),
on board the Swedish
destroyer HMS Småland
(J19). Image: Wikipedia.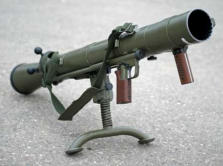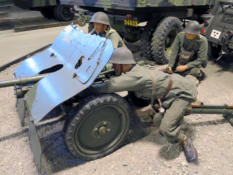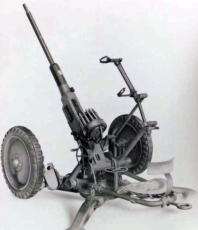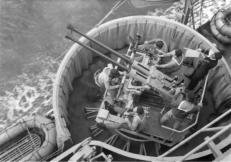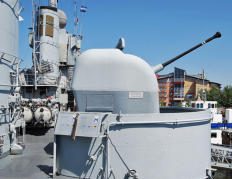 Sweden's Military
Preparedness 1939 - 1945
Introduction
When World War II broke out on 1 September 1945,
about twenty European countries declared
themselves as neutral states, among these states
were Sweden, Norway, Denmark, and Finland. Out of
the initial 20 European neutral states, only seven
managed to hold their neutral status during WWII,
among them Sweden.
Sweden wasn't at war 1939 - 1945, but the war
nevertheless had a great effect on the population of
Sweden. Rationing was imposed, civilian vehicles had
to be converted to run on producer gas (Swe:
Gengas), and men of draft-age were called up for
military service for long periods. The Industry
switched-over to meet the needs of the armed forces.
At the outbreak of WWII on

1 September 1939

,
Sweden made a

partial mobilization

two strengthen
its military preparedness. These forces were called
the

Neutrality Watch

(Swe:

Neutralitetsvakten

) and
were in service throughout the war. However, the size
of the

Neutrality Watch

varied a lot during the war
depending on how Sweden at various times
experienced the threats upon the nation.
On

30 November 1939

, the Soviet Union invaded our
neighboring country Finland, the so-called

Winter
Wa
r. Therefore, on
2 December
, Sweden made a
more extensive partial mobilization, in connection
with the Soviet attack on Finland. An army division of
100,000 men was mobilized to protect Sweden's
north-eastern border with Finland and on 5
December, the Swedish Navy began laying mines in
the Åland Sea between Sweden and Finland, east of
Stockholm, to keep Soviet submarines away from the
Gulf of Bothnia.
When Denmark and Norway were invaded by the
German armed forces on

9 April 1940

, a majority of
the Swedish military units were deployed to northern
Sweden, to protect the border with Finland in the
eventuality of a Soviet attack against Sweden.
Therefore, on

11 April 1940

, Sweden carried out a
General Mobilizing
, and the number of soldiers
under arms was raised to 320,000 within two weeks.
Also, many extra regiments were established, the so-
called "redoubling regiments" (Swe: dubblerings-
regementena.)
The image to the
right shows Swedish
soldiers in service
during WWII
"somewhere in
Sweden". Photo:
Sture Högman.
From

23 June 1940

,
all Swedish warships were carrying

two white
stripes
painted abeam on upper decks and sides to
clarify that they were ships of a neutral nation to
avoid accidental shootings by the belligerent nations.
The image to the
right shows a
Swedish motor
torpedo boat with
two white stripes
abeam. Photo:
Sjöhistoriska museet, ID: Fo88651AB.
In

March 1941,

Sweden's military preparedness
further raised in connection with the so-called

March
Crisis
(Swe: Marskrisen) when a great tension arose
between Sweden and Germany because of the
Germans increasing nonchalance of the transiting
agreement. Sweden, therefore, mobilized
considerable forces in openness to show Germany
that Sweden wasn't going to give in. The crisis soon
wore off. However, the now mobilized units were
kept in service and were part of an extensive winter
maneuver.
At the outbreak of WWII in 1939, in a

State of the
Nation Address
, Swedish Prime Minister Per Albin
Hansson stated "

our military preparedness is very
good
". This wasn't entirely true. A few years after the
First World War, Sweden downsized its armed forces.
This of course had a big effect on Sweden's
preparedness in 1939. The major problem wasn't the
reduced number of soldiers but fewer trained
officers. In 1939, when Sweden was rearming its
armed forces, there was a shortage of trained,
experienced officers.
Already in

1936

, the rearmament began when new
military equipment was acquired, foremost modern
arms, not the least armored tanks and combat
aircraft.
At the beginning of the war, there were still a great
need for further armament and many extra
regiments were established, the so-called redoubling
regiments (Swe: Dubbleringsregementen).
In

1942,

a new

Defense Act

was passed in the
Swedish Parliament (FB 42) witch implied a
considerably raised

defense budget

, "Swe: F

örsvarets
femårsplan
". The military training of draftees was
increased to 450 days.
At the beginning of WWII, the Crypto Department
with the Swedish Military Intelligence managed to
crack the German encrypted messages and was
thereafter able to read the German conversation with
its forces in Northern Europe.
In

February 1942,

the so-called

February Crisis
occurred. The Germans were then considerably
strengthening their forces in Norway for a possible
invasion of Sweden. This was known by the Swedish
General Staff since the Swedish military intelligence
was listening in on the German telecommunications.
The Swedish answer was a further mobilization and
about 300,000 Swedish soldiers were participating in
a gigantic military maneuver in Jämtland by the
Norwegian border. The Swedish units were well
trained and well equipped.
The hard-pressed situation in Europe 1939 - 1945 and
Sweden's severe position indeed increased the
Swede's willingness to defend themselves and the
solidarity was strong to keep the nation prepared for
potential acts of war.
In total, about 1,000,000 Swedish conscripts were, in
different stages, drafted for military service during
the war, 1939 - 1945.
This period in Sweden, 1939 – 1945, is known as the
"

Beredskapstiden"

or "

Beredskapsåren"

by the
Swedes.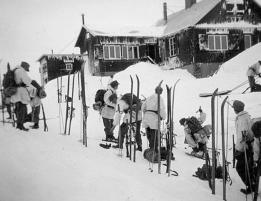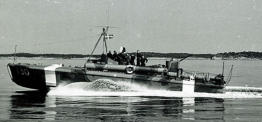 Infantry – Organization and
Armament, WWII
Each infantry regiment was organized into

3
battalions
and each battalion consisted of 4
companies. Each regiment had, besides the 12
regular companies, also 2 further companies; 1
machine gun company (13th) and 1 special company
(14th).
In total, a wartime regiment numbered 3,500 men.
In

1939, horses

were still the predominant means of
transportation and each infantry regiment was
equipped with 343 horses and 280 carts. Besides the
horses, there were also 58 vehicles for the baggage.
The

machine gun company

(13th) was organized
into 3 machine gun platoons equipped in total with
12 machine guns "ksp m/36".
The

special company

(14th) was organized into an
anti-aircraft machine gun platoon equipped with
four double-barreled anti-aircraft machine guns
mounted on a tripod gun carriage, an anti-tank
platoon equipped with four 37 mm anti-tank guns,
and an army engineer platoon.
A

battalion

consisted of a headquarters, a battalion
company including battalion baggage &
quartermaster unit, three rifle companies, and a
heavy weapons company. The battalion company
consisted also of a ranger surveillance company.
The

heavy weapons company

consisted of a
machine gun troop, a mortar platoon equipped with
four 8 mm mortars, and combined anti-aircraft and
antitank platoon equipped with three 20 mm anti-
aircraft automatic guns that could be mounted on
gun carriages for antitank duties.
A

rifle company

consisted of a headquarters, three
rifle platoons, a heavy weapons platoon, and a
company baggage unit. The heavy weapons platoon
consisted of a machine gun troop equipped with two
machine guns m/36 and a mortar troop equipped
with one 8 cm mortar.
Each rifle platoon consisted of a platoon
commander, deputy commander, 4 rifle squads, and
a light mortar squad (47 mm mortars). Each rifle
squad consisted of a squad commander, a deputy,
and eight men organized into
a light machine gun team and
a fire team.
The image to the right shows
a Swedish sentry on guard
duty somewhere in Värmland
during WWII. Photo:
Armémuseum på
Digitaltmuseum.
On 1 April

1943,

the
armament and organization of the rifle companies
were changed. Each rifle squad was now equipped
with yet another submachine gun. Two automatic
rifles m/42 were assigned to each rifle team. Further,
each rifle platoon was supplied with a 20 mm
antitank gun m/42. In each rifle company, the heavy
machine gun m/36 was replaced by the lighter air-
cooled machine gun m/42. The special companies
were supplied with the 12 cm mortar m/41. Each
platoon was equipped with 3 mortars each.
Sweden now had a modern infantry rifle and combat
support units.
However, the

marching speed

was still slow, about
4 – 5 km/h on roads and 2 km/h off-road.
Each rifle platoon had a horse and cart for the
transportation of heavy weapons. However, on the
back of a truck, the platoon could move at a speed
of 40 – 50 km/h.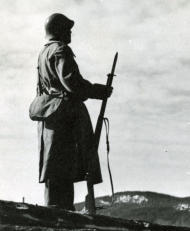 Antitank recoilless rifle
Anti-aircraft automatic gun
Pluton
En underavdelning till ett
kompani och brukar bestå
av 20–40 soldater. En pluton
är i sin tur indelad i ett antal
grupper.
Platoon
A sub-unit of the company
composed of 20–40 soldiers.
A platoon is subdivided into
three or four squads
(US: sections)
Tropp
En underavdelning till pluton
eller batteri, oftast
motsvarande en halv pluton
eller 2-3 grupper.
Troop
A sub-unit of the platoon or
the battery corresponding to
a half platoon or 2 - 3 squads.
Squad
For example: rifle squad
Team
For example: fire team